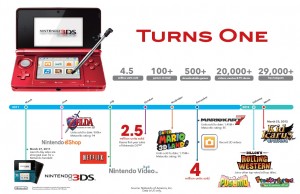 Nintendo released an announcement that the 3DS has sold 4.5 Million units in the United States alone. They've also included a timeline of some of the many milestones the 3DS has achieved (found after the jump). While the 3DS has reached 4.5M in sales in the US it will also be celebrating it's first birthday here in just a couple of weeks.
Check out some of the milestones after the jump!
• March 27, 2011: Nintendo 3DS ushers in a new era of gaming with glasses-free 3D. Launch-day sales are the strongest in Nintendo's history.

• June 2011: The Nintendo eShop launches, letting users preview, try and buy new and classic games, download applications and watch 3D movie trailers.

• June 2011: Link makes his first appearance in 3D with The Legend of Zelda: Ocarina of Time 3D, which is still the best-reviewed game for Nintendo 3DS.

• Summer 2011: Nintendo 3DS adds two video services:
– Netflix unlimited streaming members can instantly watch thousands of TV episodes and movies.
– Nintendo Video automatically delivers hand-picked 3D content from leading sites and artists.

• October 2011: After only eight months, Nintendo 3DS surpasses first-year sales of Nintendo DS, the best-selling video game system in history.

• Fall 2011: Mario jumps into 3D with two new games, each becoming the fastest-selling titles in their franchises' history:
– Nov. 13, 2011: Super Mario 3D Land – 1.75 million copies sold to date
– Dec. 4, 2011: Mario Kart 7 – 1.45 million copies sold to date

• December 2011: Users can now record up to 10 minutes of 3D video and stop-motion animation.

• December 2011: Nintendo 3DS crosses 4 million units sold, passing the record pace set by the Wii.

• Feb. 22, 2012: Dillon's Rolling Western launches for the Nintendo eShop, joining hot titlesPushmo and Freakyforms: Your Creations, Alive!

• March 23, 2012: Nintendo 3DS closes its first year with the launch of Kid Icarus: Uprising, the first original entrant in the series in more than 20 years.
| | | |
| --- | --- | --- |
| | Nintendo DS* | Nintendo 3DS** |
| Launch Date | Nov. 21, 2004 | March 27, 2011 |
| Total HW unitssold in first 12 months | 2.3 million | 4.5 million |
| Total number of SW titles released in first 12 months | 58 | 100+ |
| Total units of software sold in first 12 months | 5 million | 9 million+ |
| Total $ sales (HW, SW and accessory) in first 12 months | $540 million | $1.2 billion+ |
Related Articles: