Nintendo's E3 showcase is only three days away, and a document listing all of Nintendo's E3 showroom products has been "leaked." Some games listed include both Hyrule Warriors, and a new Legend of Zelda game titled "The Legend of Zelda: Unbound King."
We have no way of verifying if this list is real, but we can only hope! We will definitely find out come Tuesday, June 10th.
To see the list of games rumored to be appearing at E3, continue reading after the jump!
Nintendo 3DS
Dragon Quest VII: Warriors of Eden – Trailer/Software Demo
Fossil Fighters: Infinite Gear – Trailer/Software Demo
Pokemon Omega Ruby & Pokemon Alpha Sapphire – Trailer/Gameplay Footage
Professor Layton vs. Pheonix Wright: Ace Attorney – Trailer
Project S.T.E.A.M. – Trailer/Software Demo
Star Fox 3DS (temp.) – Trailer/Software Demo
Super Smash Bros. for 3DS – Trailer/Software Demo
Nintendo Wii U
Bayonetta 2 – Trailer/Software Demo
Hyrule Warriors – Trailer/Software Demo
The Legend of Zelda: Unbound King – Trailer/Software Demo
Mario Party 10 – Trailer/Software Demo
Nintendo U (temp.) – Trailer/Software Demo
Pokken Fighter Tournament – Trailer/Gameplay Footage
Pushmo World – Trailer/Software Demo
Shin Megami Tensei x Fire Emblem – Trailer
Super Smash Bros. for Wii U – Trailer/Software Demo
Super Mario Sunshine HD – Gameplay Footage
Wave Race: Blue Storm HD – Gameplay Footage
XenoMech Saga – Trailer/Software Demo
Yarn Yoshi (temp.) – Trailer/Software Demo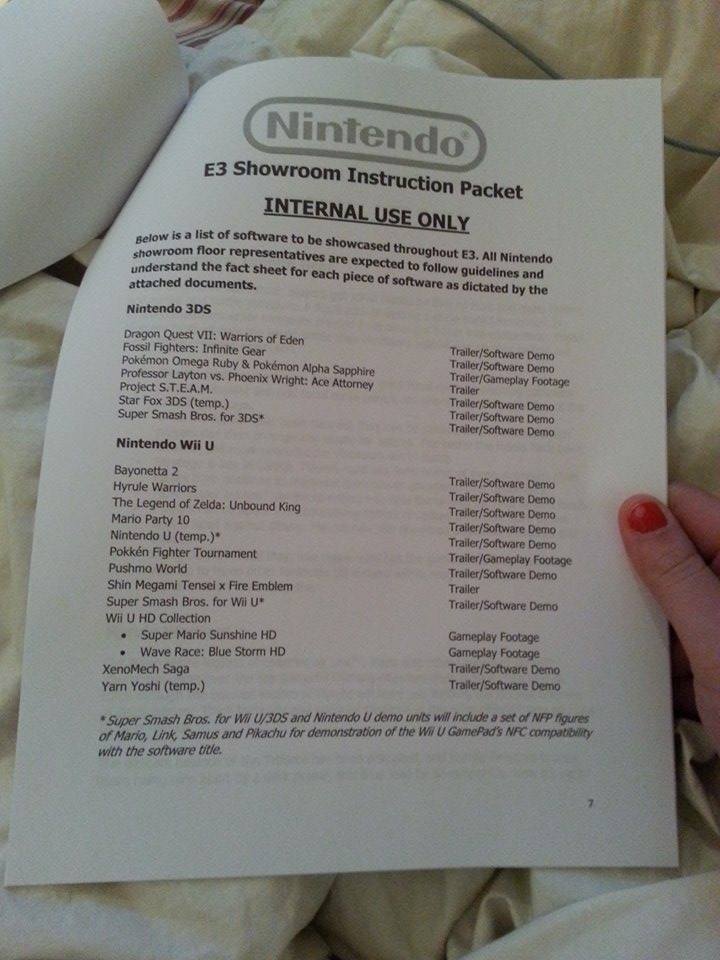 Related Articles: