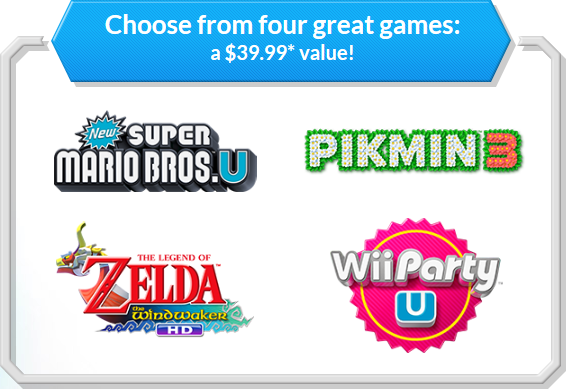 Nintendo's generosity abounds with their newest offer! Read more below!
[Update]
Europe has a bigger selection for their free game for purchasing Mario Kart 8, with a selection of ten games compared to North America's selection of only four games. So if you live in Europe, your selection consists of: Nintendo Land, New Super Mario Bros. U, Game & Wario, Pikmin 3, The Legend of Zelda: Wind Waker HD, Sonic Lost World, Mario and Sonic at the Sochi 2014 Olympic Winter Games, Wii Party U, The Wonderful 101, and Monster Hunter 3 Ultimate.
Additionally for BOTH Europe and North America, you will only be able to claim your free game download until July 31st, so don't forget!