Thoughts about character creation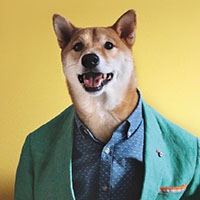 Thinking about character creation and conception. I've never really made many characters outside of roleplaying games (including making up personalities and moral codes for games like Skyrim and Morrowind). I've been thinking lately about personality, characters, and understanding other people.
To start with, here's a story about my dog. He's a nice enough dog, and I love him a lot, but when he gets around other dogs he acts aggressively defensive. At first I just thought it was okay, and put it out of my mind or excused it somehow, but the last time he got aggressive with another dog, it made me take it more seriously. He's aggressive because he's pent-up. He's more energetic than we have time to exercise out of him, and so he gets frustrated and acts out. Just because I understand him, doesn't mean that I can let him off. I've reformed and decided not to let him off his lead when I'm uncertain of whether I'm approaching other walkers (on a woodland trail), because he's a big scary thing and he can sometimes be not that nice. I used to only tell myself "he's a good dog but he can appear scary, so I'll be careful about other people" but now I'm more aware that not only does he look scary, but he acts scary as well, under certain circumstances. People he's okay with. Unfamiliar dogs less so.
I started to more level-headedly consider his personality, and as I did so it dawned on me that I can't rightly say what he's thinking, nor predict what's best for him. Like, I know he just needs more exercise, but as a philosophical thing the thought interests me.
Moving on, I started to think about the fact that I had begun to build a personality for a dog. I had started to imagine the connections and meanings behind his actions, as you would with people. We get to know people directly through experiencing their actions; their words.
And so I thought to myself, what about this as a possible method of character creation?
Rather than fussing yourself over what their key aspects are and then using those aspects to predict their actions, do it the way you would with people: Predict their actions by knowing their personality, and know their personality by analysing their actions.
Start with a blank slate character. A nothing. Then imagine what actions you want them to make, and then, from your own personal philosophy, explain their actions, and begin to build a framework of their personality. That's the idea.
It had me thinking also about how people understand fictional characters differently. People have their own philosophies about life and themselves, and from this they understand other people, by using their own knowledge of themselves and their own motivations. People who share your interpretation of characters will probably also share parts your personal philosophy, and so they'll probably be the people you'd befriend, because they get that part of you and you share it.
People often disagree with either the author's decisions for the characters, or with other people's interpretations and fan-made representations. I'd put that down to personal philosophy, and how people choose to relate to characters, thus shaping their understanding of them, leading to different predictions of the characters' future actions. So don't hate peoples' interpretations, because it's just them expressing a piece of themselves. Your interpretation is just as personal as theirs.
---